In honor of the last day of Women's History Month. A quick chat with Eric and Ali Smith Story, March 31, 2021 while soaking up the sun in the coastal town of Albion, California.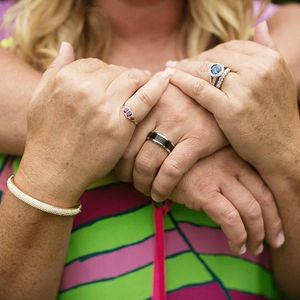 Eric: Ok, first question, let me see here... so as a woman growing up in the South, who or what do you really think shaped you to be the woman you are today? 
Ali: Now that is a big question. I remember from a very young age I can remember my Grandmother Jackson (that's her ruby dinner ring in the photo) doing accounting books for neighbors in her farmhouse while my Papaw prepared lunches for the local senior citizen center. Unconditionally helping their community made a big impression even as a child. My grandparents didn't have much and what they did have was shared with folks who mostly had less. 
Eric: Where did your competitiveness come from? Don't just say you are a "Texas Girl". 
Ali: HA! Sports. Sports. Sports. I played everything I could back when girls played on boys teams too. I gave it my all, and was able to figure out who the weak players were... boys or girls and make my plans to school them.  I loved scoring goals! This still makes me happy today when I shoot hoops. It definitely runs in our family. My brother was and is a great athlete and my nephews back home in Texas are all just incredible competitors on the field.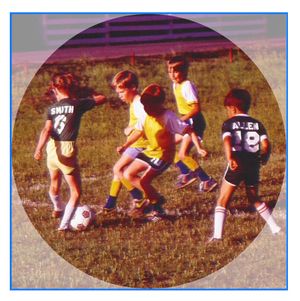 Eric: What about when you weren't on the field or on the court? How were you in school?
Ali: I'm pretty sure I was born with a bit of a rebellious sass! But I knew I had the gift of gab and a big heart. I was a student council nerd, I had to work incredibly hard though for good grades & was in awe of my classmates who were wicked smart. It seemed so much easier for them. This gave me sensibility and drive to want to learn more about the world really. 
Eric: Drive! That is a big characteristic that stands out with you. Any particular ah-ha moment in your adult life that gave you this super power? 
Ali: Well I never felt that I was given less of an opportunity as a women in business. Maybe I ignored it if so. I've overcome heartbreaking adversity with my parents divorcing during college which made me very independent because...well, I had to be. I have earned everything in my adult life by working working working. Not taking lumps from the occasional mean girls or misogynistic boys club. Some years were harder than others. I've seen great success happen for great people and not so great ones too. I just want a nice home that enables us to entertain and host family, friends and guests who are in love with Smith Story Wines so much right now that this keeps me awake at night! 
Eric: Speaking of entertaining, where did this "core heart felt strength" come from my love? 
Ali: I'm pretty sure it began with my family gatherings that normally happened during traditional holidays. My Grandmother Smith would also host bridge (card game) parties in her home during my summer visits. It was so fun to pull out the fanciest serving trays and glassware and to see how much everyone enjoyed the snacks and environment. My first time sipping a bottle of Dom in Beaver Creek in 1991, now that was a party! 
Eric: We'll get there babe. You know we've gone from zero to 100 these last few years, keep the faith! 
Ali: I know I know! The pandemic was/is such a losing game. We survived last year and grew as a new winery, am so thankful for this. But my patience is wearing thin! I'm buying new fun fancy outfits to bust out in the near future too. I'm way behind in the fashion department these days. 
Eric: Steady as she goes, you know this. What do you have planned for us this summer? Last year it was the "Helluva Slushees" which were a HUGE hit. 
Ali: First we need our wholesale business to start catching back up, I and (this) can't wait until OND, spring and summer placements of our wine are priority. The amount of time and investment in this channel over the last 7 years is considerable. Our Sauvignon Blanc and Helluva Pinot Noir particularly are 2 incredible year-round and summer wines. Some of our very best accounts are resorts and places with outdoor seating…so the whole freaking nation is now eating and drinking outside, let's make this happen people! 
Eric: It's so easy to you! But, wait, what about up here in the Anderson Valley? 
Ali: Well, you know we have our first sparkling wine release soon, "A Smith Story Summer of Sparkling" sounds good to me. Plus, I have cool plans for that slushee machine again, lets get to work on new fun recipes. I've also been collecting vintage ice and champagne buckets for the sundries side of the tasting room. Gosh, I can't wait to have guests back inside with us! 
Eric: You're right, it's hopefully going to be insanely cool and busy time ahead for us. So back to this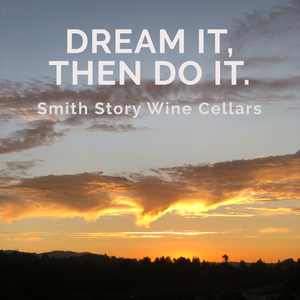 last day of Women's History Month 2021… what advice do you have for "The Twenty-something Ali Smith"  now that you are closer to 50.
Ali: Hey 49!! I'm turning 49 and I can't hardly believe it too! Soooo, Ali in her 20's… man she was so fun! I miss parts of her for sure. However, I would tell her to get really good at something, something niche, be curious and something that would allow her to travel the world while making her mark. To this day I love what we have built and would love to be successful enough soon to step away from the Smith Story  "General Manager" role and spend more time in the vineyards and the cellar with you...and in the garden of course growing beautiful blooms to be used for hosting and decor. 
Eric: We'll get there, we are so very close! The month of May will be here before we know it and is a huge month of celebration ahead...our anniversary, your birthday and of course Sandwich's too. Time to have some real fun Ali, love you and all that you have done to help put Smith Story Wine Cellars gracefully on the map! Cheers to you and all the women in both of lives who've inspired us along this journey of life.